XIM University gives top priority to internationalization as it helps in advancing the quality of teaching, research, institutional capacity building and cross-cultural adaptability.
International Relations Committee (IRC) is formed to look after the internationalization of XIM University, through collaborations with eminent universities across the globe and building international partnerships.
International relations committee of XIM University promotes and facilitates:
Student Exchange Program
Summer School program
Study Abroad Program
Faculty Mobility Program
International Seminar and Workshops
Double Degree and Dual Degree Program
Co – Teaching
Faculty Exchange Program, Joint Research work on areas of mutual interest;
International Consulting Projects in collaboration with our international partners;
International University Rankings
Developing international course modules jointly for both XIM University as well as the partner business schools.
XIM University has been growing in its international endeavors by promoting mutual benefits to students, faculty and contributing to cultural exchange, friendship and peace building.
IRC activities conducted in the year 2019-20 are given below:
International Agreement between Universities
1. A Letter of Intent is signed between Texas Tech University and XIM University on Nov 11,2019. The letter of Intent will facilitate future agreements that may formally establish an international exchange of faculty and students, research data, and educational and development programs.
2. A Memorandum of Agreement is signed between International Association of Jesuits Universities (IAJU) and XIM University on January 16,2020. The purpose of the agreement is to co-operate toward the internationalization of higher education through semester-long student exchange for visiting students at receiving institutions.
XIM University, XIMB, was honored with Four Palmes Global Award by Eduniversal Convention in the 12th edition of the Eduniversal World Convention at Sasin School of Management from October 26 – 29, 2019 Bangkok, Thailand for outstanding academic excellence in management education and research. XIM University is proud to maintain the 4 Palm award for the second consecutive year. Prof. Fr. Donald DSilva, SJ, Director Finance and Dean of Communication, Prof. Andrew Dutta, Dean of Human Resource Management, Prof Bikram Bahini Pati, Associate Dean – Admissions, XIM University, and Prof Elizabeth Abba, Assistant Dean, International Relations, XIM University attended the Eduniversal Convention-2019 at Sasin School of Management Bangkok, Thailand.
International Student Exchange from XIM Universiy
International relations committee of XIM University promotes and facilitates student exchange program, summer school program etc. to promote mutual benefits of the students by increasing their understanding of other countries cultures, communities, and languages. 5 post graduate students and one under graduate student went to different Business Schools/ University in Europe and USA. They are
| Sl. No | Student Name | Roll Number | School | Program Attended at | Country | Dates |
| --- | --- | --- | --- | --- | --- | --- |
| | | | | S.G.H Warsaw School of Economics | | |
| | | | | S.G.H Warsaw School of Economics | | |
| | | | | S.G.H Warsaw School of Economics | | |
| | | | MBA-Urban Management and Governance | S.G.H Warsaw School of Economics | | |
| | | | MBA-Sustainability Management | | | |
| Sl. No | Student Name | Roll Number | School | Program Attended at | Country | Dates |
| --- | --- | --- | --- | --- | --- | --- |
| | | | B.Sc Sustainable Devlopment | SanDiego State University,School of Public Health | | |
International Student Visit from San Diego on Study abroad programme
17 international students and Prof. Zohir Chowdhury from San Diego State University came on a study abroad program jointly offered by School of Sustainability, XIM University, and San Diego State University wherein undergraduate students have been visited XIM University from 4th January,2020 to 15th January,2020. These students were from diverse background such Public health, Sustainability, Communications, Statistics, Computer Engg, Psychology, Health science, Drama, Food & nutrition and Biology.
XIM University-SIGNIS Program
There are 9 students from different Universities of world at XIM University for a 3 months program, International Certificate Programme in Compassion and Social Communication. The program is conducted by Center for New Humanities and Compassion Studies, XIM University and led by Dr. M. Nadarajah (Nat),Chair Professor. The course started on Jan25,2020 and will continue till May 5, 2020.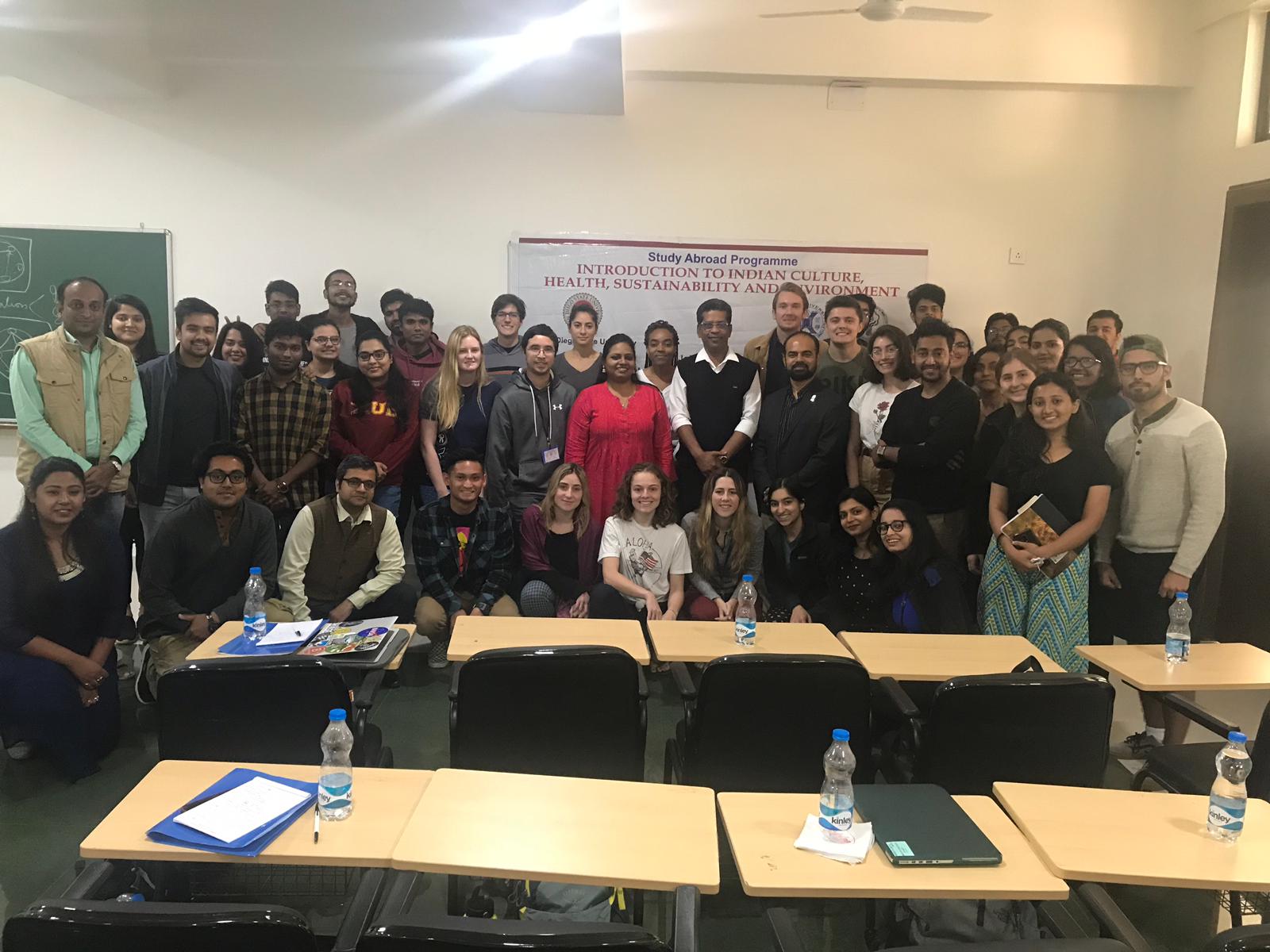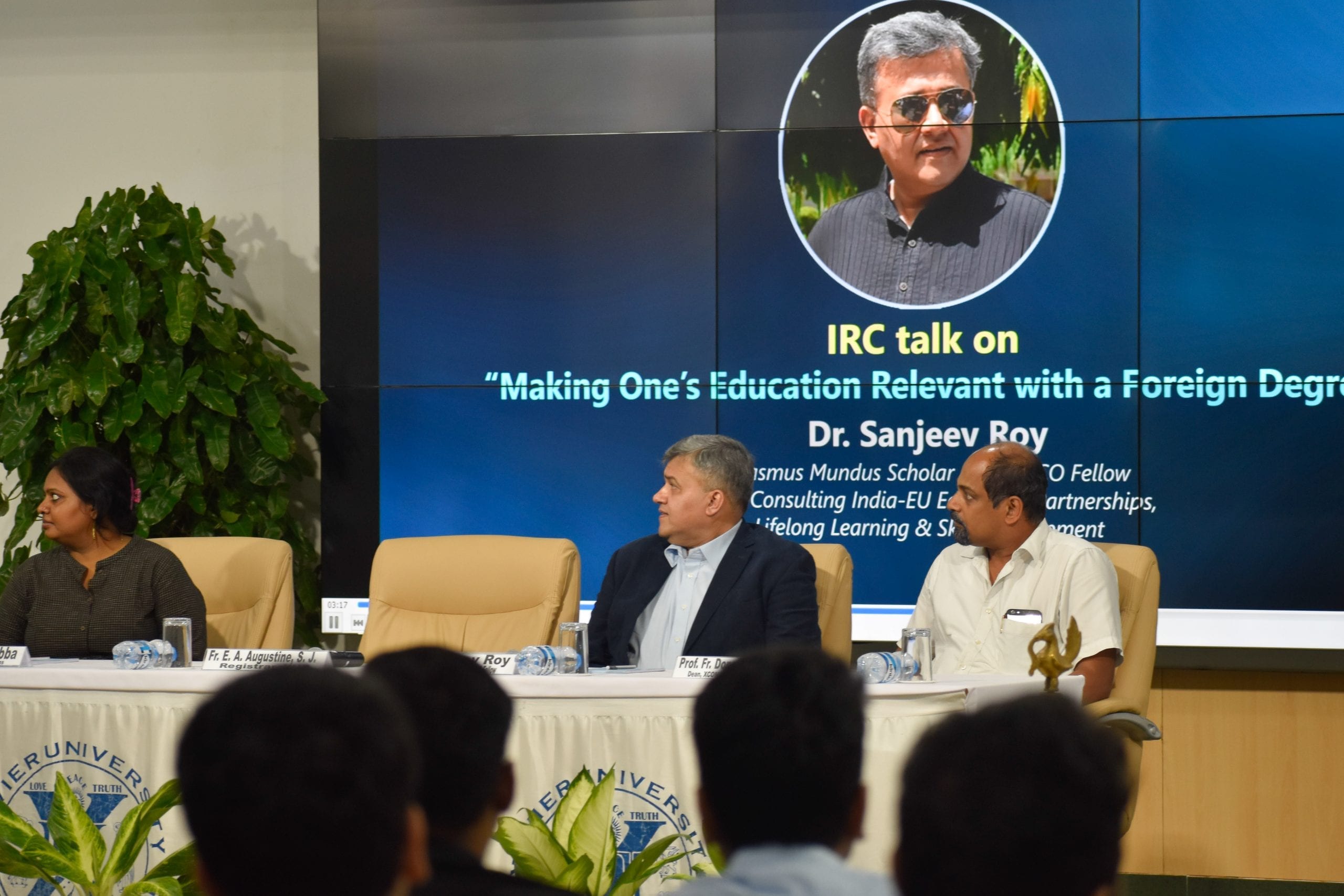 International Faculty to teach courses at XIM University
An International Faculty Prof. Jose-Maria Aulotte, Professor, Magellan Institute, Paris, France was invited to teach the course "International Human Resource Management" at School of HRM, XIM University from 9th July 2019 till 18th July 2019.
Dr. Sanjeev ROY, Erasmus Mundus Scholar & UNESCO Fellow visited university on 5th and 6th September 2019. He addressed the undergraduate students of the university at mini auditorium of the New Campus on 6th September 2019 from 2.15 p.m. to 3.45 p.m. The topic was "Making One's Education Relevant with a Foreign Degree". Fr. Donald D'Silva S.J., Dean School of Communication & Director, Finance XIM University, Fr. Alwyn Rodrigues, S.J. Professor, School of Communication and Dr. Elizabeth Abba, Assistant Dean, International Relations Committee of XIM University were present on the occasion.
The summary of the talk was:
Benefits of studying in Europe
Scholarship facilities for the students
3.Joint master's degrees of Erasmus Mundus
Possibility to choose from a list of
over 100 Masters courses
Full-study scholarships for students
from all over the world
When and how to apply for the courses.
Mr. Kaushik Saraiya, Vice President- Outgoing Global Volunteer and Business Expansions, AIESEC in Bhubaneswar. He visited XIM  University on 6th September 2019. He addressed the UG students of the university on the topic of international Internship.
Dr. T S Ragu-Nathan, Professor Emeritus, University of Toledo, Ohio, USA and Consultant Global Academic Alliances along with Mr. Victor Arthur Finch, Director, Enrolment Management, office of the international management, University of Toledo, Ohio, USA visited XIMB and XIM University,  on 11th September 2019. They interacted with B. Com third year students and shared about opportunities in University of Toledo, Ohio, USA.
Dr. Sukanta Misra ,Vice Provost for International Affairs and Professor of Agricultural & Applied Economics Texas Tech University visited XIMB on Oct 21, 2019.He interacted with Faculty & IRC students and discussed on International opportunities between the two universities.
Mr. Sourav Bhowmik, Manager – Campus France Kolkata, along with Mr. Amitava Das, University Cooperation officer visited XIM University on 16th January 2020 and conducted a seminar on higher education opportunities in France. UG, PG and doctoral students participated in the seminar. The objective of the seminar was to help students to gain an understanding of the French Education system in general, and the admission and selection process and the benefits provided to them by the French state.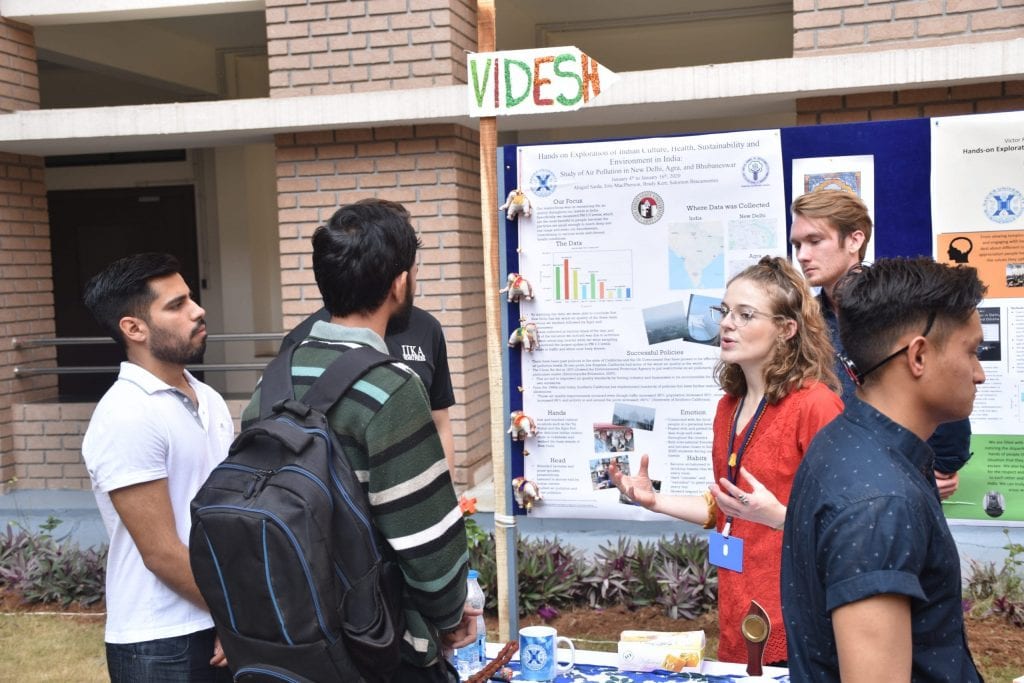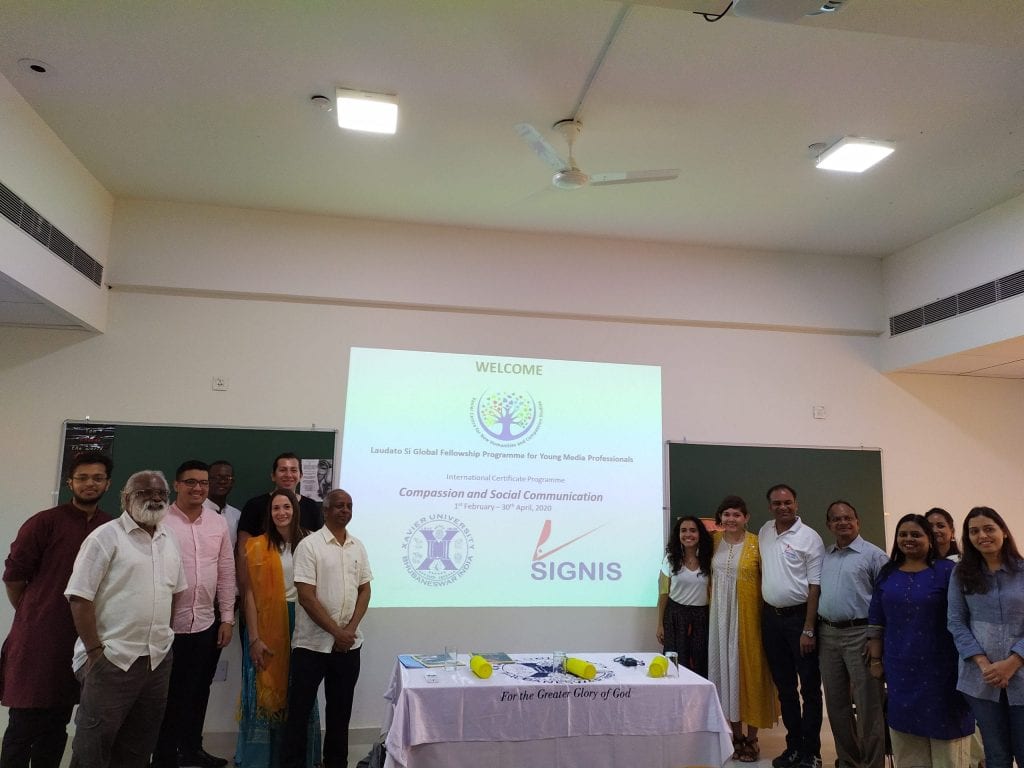 Visitors visited XIM University (2019-20)